First a list of the lectures posted to make them directly accessible:
Lecture 1: (Session 1) 
Lecture 2: (Session 1)
Lecture 3: (Session 2)
Lecture 4: (Session 2)
Lecture 5: (Session 3)
Lecture 6: (Session 3)
Lecture 7: (Session 4)
Lecture 8: (Session 4)
Lecture 9: (Session 5)
Lecture 10: (Session 5)
Click on the image below to retrieve the Outline of the Lecture course or scroll down for the same: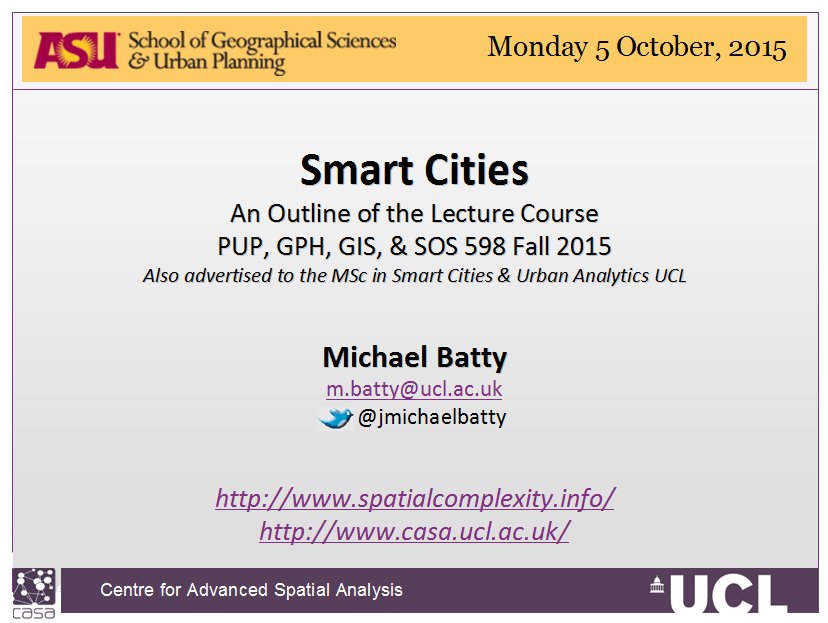 This course introduces you to ideas about how computers, computation, and electronic communications are being rapidly introduced into the fabric, operation and design of the contemporary western city. This focus on new information and communications technologies (ICT) and the city have coalesced in the notion of the 'smart city' where the focus is on how cities are becoming 'more intelligent' which consists of various services which enable populations to improve their ways of life, their economic productivity and their social interactions. The topics are relatively well defined and to an extent stand-alone in that they are relatively self contained between the topics although there is a strong historical imperative to the chronology of the lectures and a focus on how geography and space are informing ideas that are underpinning the smart city.
The lectures will first follow a historical chronology of how ICT has developed from their origins in digital computing to the current all-pervasive use of computers and communications in contemporary cities. They will be organized into five distinct sessions with approximately 2 lectures per session, and they will deal with different topics involving transport, data, services, digital representation (in 2D and 3D), forecasting, participation and media. Examples will be drawn largely but not exclusively from world cities like London. The five sessions will be organized according to the topics ordered as follows:
SESSION I: THE CONTEXT
1.A Walk Through the Smart City
Examples of How the City is Being Automated and Instrumented. A Very Quick History of the Development of Wireless, TV, Computers, the Internet and Real Time Control in the City
Turing's Legacy
How Computers got Started, Miniaturization, and the Convergence with Telecommunications. The Underlying Technologies, Hardware, Software, Data and Orgware, Network Computation
SESSION II: SMART CITIES ARE ABOUT INFORMATION, HARDWARE AND SOFTWARE
The Wired City: Computable City: Information Infrastructure
Graphics, and Convergence of IT and Communications. Automating, Instrumenting, Measuring, and Sensing How We Locate and Move in the City: Where the Hardware Really Resides, The Transformation of Physical Distance
The Smart City as a Communications Mechanism
Defining Smart Cities Again: Space and Time:  Cities as Flow Systems, Coupled Networks, Materials, People, Energy, Information, Vehicle Movements in Real Time
SESSION III: NETWORKS, FLOWS AND BIG DATA
Transport and Transit: Smart Systems and Big Data
Automating, Instrumenting, Measuring, and Sensing How We Locate and Move in the City. Predicting Travel behaviours from Smart Card Data
6.Online Public Networks: Communications Data
Passenger Timetable Flows, GPS in Special Purpose Vehicles, Buses, Taxis, Phone Data and a Discussion of the London Bikes Scheme and Its Visualisation
SESSION IV: CITIES AS SERVICES DELIVERY
Big Data and Urban Information Systems
The Origins of Information, Transactions Processing, Municipal Information  Systems, GIS and Interoperability; Confidentiality, Privacy, the Surveillant Society
The Participatory City: Crowd-Sourcing, City Dash Boards, Social Media
Integrating Data, Open Data, Coordinating Services, Emergency Response and Location-Based Services, Web Mapping, Real Time Sensing and Information. Making Cities Smarter, Coupling Networks, Services and People, New Forms of Electronic Community
SESSION V: THE VIRTUAL CITY: REPRESENTATION, MODELLING, AND PREDICTION
Modelling The City: GIS, 3D and Virtual Reality Representations
The Development of 2D maps to 3D Environments, Virtual Reality, Augmented Reality, Serious Visual Gaming
Urban Simulation and Prediction
Building Mathematical Models of the City, The Science of Cities, and the Synthesis of Simulation with Representation, Data Driven Models, Prediction and Forecasting
Reading
If you wish to read something now then download the following paper from the site and look at the editorials I have written over the last ten years in Environment and Planning B. The buttons below take you to the relevant stuff. I will build up some references on this area as we go alone but the literature is wide, discursive  and there are very few good papers in the area as yet and the only book is Townsend's (2013) Smart Cities