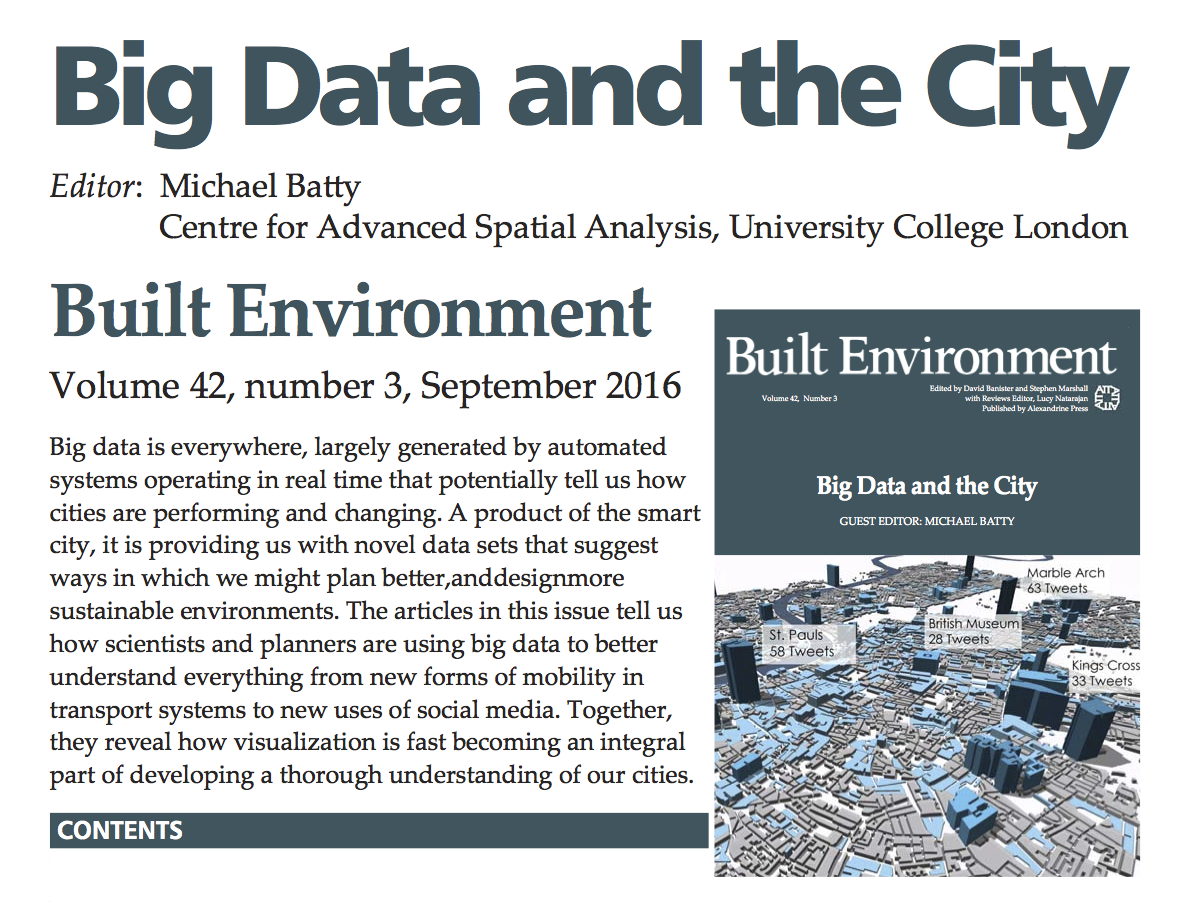 Look at the current issue of Built Environment. Papers from CASA and CASA alumni here as well as several others.
"Big data is everywhere, largely generated by automated systems operating in real time that potentially tell us how cities are performing and changing. A product of the smart city, it is providing us with novel data sets that suggest ways in which we might plan better, and design more sustainable environments. The articles in this issue tell us how scientists and planners are using big data to better understand everything from new forms of mobility in transport systems to new uses of social media. Together, they reveal how visualization is fast becoming an integral part of developing a thorough understanding of our cities."
Here are the list of papers
Editorial: Big Data, Cities and Herodotus
Batty, Michael
Big Data and the City
Batty, Michael
From Origins to Destinations: The Past, Present and Future of Visualizing Flow Maps
Claudel, Matthew; Nagel, Till; Ratti, Carlo
Towards a Better Understanding of Cities Using Mobility Data
Lenormand, Maxime; Ramasco, José J.
Finding Pearls in London's Oysters
Reades, Jonathan; Zhong, Chen; Manley, ED; Milton, Richard; Batty, Michael
A Classification of Multidimensional Open Data for Urban Morphology
Alexiou, Alexandros; Singleton, Alex; Longley, Paul A.
User-Generated Big Data and Urban Morphology
Crooks, A.T.; Croitoru, A.; Jenkins, A.; Mahabir, R.; Agouris, P.; Stefanidis, A.
Sensing Spatiotemporal Patterns in Urban Areas: Analytics and Visualizations Using the Integrated Multimedia City Data Platform
(vonu) Thakuriah, Piyushimita; Sila-Nowicka, Katarzyna; Paule, Jorge Gonzalez
Playful Cities: Crowdsourcing Urban Happiness with Web Games
Quercia, Daniele
Big Data for Healthy Cities: Using Location-Aware Technologies, Open Data and 3D Urban Models to Design Healthier Built Environments
Miller, Harvey J.; Tolle, Kristin
Improving the Veracity of Open and Real-Time Urban Data
Mcardle, Gavin; Kitchin, Rob
Wise Cities: 'Old' Big Data and 'Slow' Real Time
Carrera, Fabio
Collecting and Visualizing Real-Time Urban Data through City Dashboards
Gray, Steven; O'Brien, Oliver; Hügel, Stephan