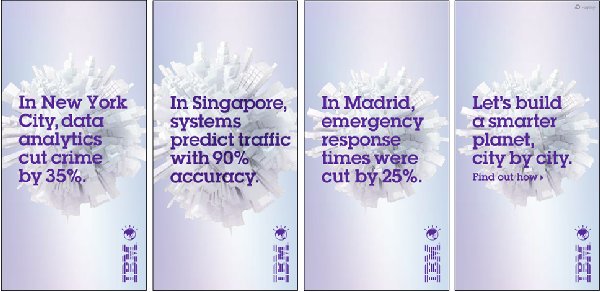 Welcome to Singapore, The Intelligent Island.
No not the sign greeting you at Changi when you land now but the sign back in 1989 which we show to the left. For the last 25 years, Singapore has been in the vanguard of the information society and this must now be the most automated place on the planet. The panels above which feature as advertisements around the city and are fed to your web pages when you access media such as BBC News from Singapore tell the same story. My attendance at the various cities conferences this past week besides revealing that cities are now really hot topics in terms of their media focus, also suggests that these are now the hot spots where the world's software companies see their new markets. Main frame went to mini, then mini to desktop and on to handheld while big computing and big data has gone from the scientific lab to the company to the city where all the action now is. With Singapore's reputation as a no nonsense place to do business and a place where order and organisation are everything, the world's biggest IT providers – IBM, Cisco, Intel and so on – are poised to introduce all kinds of new systems that provide services and management on a city wide basis.
This is the last day of the World Cities Summit and the Exhibition associated with the conference contains a really wide selection of smart cities solutions from the key software houses and many small start ups as well as public agencies in the region. In fact it is worth looking at MIT Senseable Cities Lab in Singapore where they have several projects such as Live Singapore which are doing the same and more than we are doing in CASA with our online mobility data onLondon's transport systems. Look at their visualisations to see how the city might someday to be truly online. I say someday but at the current rate of change as this meeting has suggested it may well be tomorrow!